Fully Automatic Precision Exposure Machine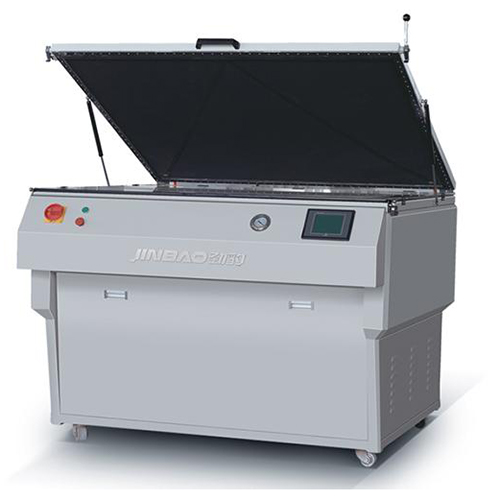 Application
Equipped with 3KW air-cooled UV lamps, Jinbao's JB-1213S II fully automatic precision exposure machine is used to conduct exposure printing of high-precision lines and dots, as well as screens with high-density meshes, such as PCB or screen printing.
As a fully automatic machine, the exposure machine will automatically finish exposure, extraction and exhaust without any intervention, making it both convenient and efficient.
Specification
| | |
| --- | --- |
| Model | JB-1213S II |
| Max. frame dimension | 1200×1300mm² |
| Air extraction speed | 1L/S |
| Vacuum degree | 0-600 mmHG |
| Light power | 3kW |
| Weight(about) | 300 Kg |
| Overall dimension | 1650×1600×1350mm³ |
| | |
Note: Customization is available.
Feature
Light intensity control device
The accurate light intensity control device ensures the exposure precision and avoids exposure defects such as mesh error and underexposure caused by voltage shortage, aged lamps and unstable lamp start-up.
Reflector
When placed at the best angle, the reflector ensures an even exposure intensity.
Micro-computer
The exposure machine is controlled using a micro-computer, which can store multiple back-up memory modes for user convenience.